So I'm ready for the Once Upon a Read-a-thon!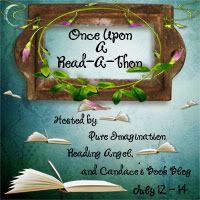 I loved read-a-thons in elementary school. Who doesn't, right? So, I decided to join in on this one. It's from July 12 to July 14. They're even going to have some activities and *crossing my fingers* some prizes! Woohoo!
Here are some of the books that I'll be reading (hopefully it will be more; it just depends on how crazy the next few days are):
Beautiful Creatures by Kami Garcia and Margaret Stohl:

Once Was Lost by the lovely Sara Zarr (truly, she's a lovely, amazing person as well as an incredible writer):
I know you want to join us. I mean, doesn't a read-a-thon just shout "super-cool"? I think it does.